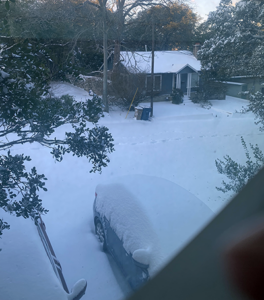 In February 2021, Texas shut down due to an unprecedented winter storm that proved to be way more than power companies could handle. The first round of Arctic air arrived on the 10th, plunging temps well below freezing where they stayed for eight days.
We dripped indoor taps and covered outdoor taps with foam faucet covers, opened cabinet doors to circulate warm air next to vulnerable pipes and filled the bathtub in case we needed water for flushing the toilet.
Whenever I looked out the window, it was sleeting, snowing steadily or snowing heavily. Alternate layers of snow and ice built up.
It was hard to comprehend. I've been through blizzards in Amarillo and Hastings, Nebraska and dug rental cars out of bumper high drifts in Virginia, Colorado and Oklahoma, but this was Central Texas. It was unprecedented. For eight days, it never stopped. It got worse and worse. The back porch thermometer registered 10 degrees, but the porch is enclosed by warm house on three sides. A neighbor from Connecticut measured ten inches of snow and ice.
Temperatures and snowfall broke records. Many Texans lost power and water for the entire week, living and dying in the dark. Some moved families to cars and ran engines and heaters, barely surviving. Some died from carbon monoxide poisoning. People and livestock froze to death.
By the 16th, we were losing power at our house for four to six hours at a time… rolling blackouts. Authorities warned of impending power failure. We unplugged appliances shutting off ready lights and drastically adjusted the thermostat; postponed laundry and idled the oven, dishwasher and TV. We cooked meals on the gas stovetop and ate them off paper plates and bowls. When the power came on, we charged electronic devices and got caught up with friends, family and utility bulletins.
Someone texted me a funny he saw on Facebook:
"2020 Hell
2021 Hell Froze Over."
We dressed in woolens and fleece, caps and gloves. I tottered around looking like Ralphie's little brother Randy in A Christmas Story (1983 MGM/Christmas Tree Films,) all but unable to move due to the bulk of clothing.
Traffic shut down. We stayed inside as it was way too dangerous to venture out – one gigantic multi-surface ice rink. If we'd had the skill and owned ice skates, we could have skated to Houston and back.
Mail and packages went undelivered.
I continued editing my book, doing my best to keep my laptop battery charged, but there were times when I had to shut down.
We prepared for the loss of all power, assembling sleeping bags and locating blankets, quilts and comforters; readied pop-up LED lanterns, candles, lighters, matches and instructions for making a shortening based candle that generated heat. We topped off water in the bathtub. When boil water notices were posted for nearby neighborhoods, I boiled and cooled tap water before running it through the Berkey Filter, afraid I wouldn't get a utility notice for our neighborhood in time to stave off contamination.
After eight days, the sun came out and the temperature finally crept above freezing. An Amazon truck made a delivery, stopping in the slush in the middle of the road, the mailman right behind him. We were saved!
Officials report 210 storm deaths in Texas. Credible estimates peg that number 4 to 5 times higher.
We were very fortunate, but our power grid is still at risk. Stay tuned.
UPDATE 07/03/2022: My community has suffered the hottest May and June on record. So far, the power grid has held up. Thank Goodness. But the forecast for the next 9 days contains only highs of 100 degrees F. or above and includes 4 days at 102 degrees and 1 day at 103. And no rain forecast. We are in EXTREME DROUGHT and under an area-wide burn ban. Watering lawns is limited to one day a week. At this rate, we will lose our grass and shrubs… hopefully not the trees. The City Utilities Office informs us to conserve water so that there is enough to fight the inevitable grass and home fires.
We need a minimal hurricane, a fast mover, to drench us and move on without flooding homes and businesses. I'm aware that further west, things are even worse.