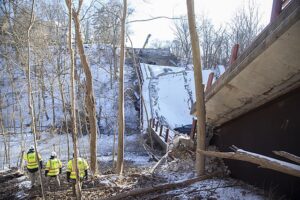 This morning I woke up to the news that a bridge collapsed in Pittsburgh. So far there are only minor injuries.
The news brought back fond memories. For a number of years, I regularly travelled to Pittsburgh, joining other company reps to update local clients on consulting projects. That meant covering lots of miles over a three or four-day period, meeting with executives at client sites.
It is impossible to drive around the city without crossing a bridge… usually an old picturesque one. Pittsburgh claims to have 446 bridges, more than anyplace else in the world. I believe it. They add charm and beauty to the city already graced by ancient hills, deep dark woods and an enviable location at the confluence of three major rivers sporting non-stop river traffic. I loved it along with working with the people of Pittsburgh, both clients and consultants. Their professionalism, natural hospitality and humor were delightful.
We were usually "chauffeured" around by the local manager. We all got along very well and looked forward to seeing each other. Trips around the city were fun, even raucous at times. When we approached a bridge, the executive from Michigan, would warn the driver to, "Hurry up! Speed up in the case the old bridge collapses!" We all laughed at her antics. Some agreed it was probably a good idea, but we all got a kick out of it.
It's possible we crossed the bridge that collapsed. Dunno. We routinely drove through that scenic area of town, passing by Kennywood and through Squirrel Hill at least once or twice a quarter.
No doubt my Michigan colleague is feeling quite smug this morning.