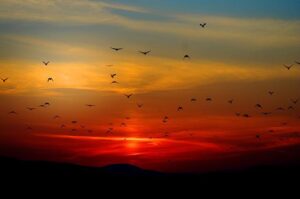 A few years ago, I drove to the lake on a beautiful fall afternoon to prepare for weekend houseguests. While I was unloading the car, a flock of blackbirds began flying over. I was in a hurry to settle before dark and at first didn't pay them much attention. However, I soon realized there were a great many birds extending from horizon to horizon, flying north to south ahead of a cold front, so many that the sky turned dark. I stopped what I was doing and began estimating the numbers at ten thousand birds per minute. The flock finally petered out after twenty minutes… two hundred thousand birds… a staggering number.
In my heart, I knew there had been many more birds, but I wanted to describe the flock to my expected guests and feared they wouldn't believe even a conservative estimate.
Chocoholic and our guests arrived shortly after dark on Friday. Late Saturday afternoon, during a game of cards on the porch, I described the birds. As expected, my estimate of the vast numbers was met with frank skepticism and good-natured ribbing. But the bird gods smiled on me, and shortly before sunset, the flock returned, again flying north to south. We stepped out onto the lawn and watched in awe. The flock once again took around twenty minutes to fly over, darkening the sky. Our guests estimated at least a million birds. I was so pleased that Chocoholic and the others got to see them. Rachel Carson would have been proud of her life's work.
I was reminded of old-time tales of the passenger pigeons whose vast numbers so impressed early settlers when our country was new. Those birds were eventually hunted into extinction.