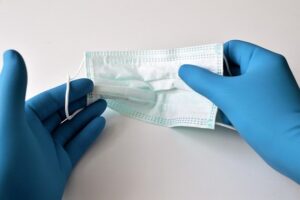 At my urging, my family took the Covid-19 pandemic seriously from the get-go. I have long had an interest in public health, and the fact that this was a novel virus, one never seen before, called for drastic measures.
We took handwashing seriously, so much so that it didn't take long before my poor hands were cracked and scaly. I started using disposable rubber gloves, but not wanting to waste them, washed my hands while wearing them, dried and reused them, marshalling my patience and taking seemingly forever to coax ornery little fingertips out where they belonged.
I found an olive oil soap on Amazon that came in giant green bars from Greece and a line of gentle hand and body wash products from a vendor in Austin. They worked well.
We canceled most appointments. Each time we left a store or office, we decontaminated in the parking lot before getting into the car, changing shoes and cleaning our things and selves with bleach wipes and hand sanitizer: bags, keys, door handles, steering wheels, gear shifts and armrests.
We drove home with windows open to blow the germs away. We shed outer layers of clothing in the garage, leaving them there along with shoes, hats and masks for three days, allowing viruses time to die. Masks were stored in paper bags. Showers were taken, mouthwash was gargled and hair was washed.
I cancelled a February 2020 cruise to Hawaii and learned I had not purchased travel insurance as intended. Instead I had purchased trip cancellation insurance, so we got almost all our money back. Those funds promptly got passed along to Amazon for Mr. Bezos' outer space travel. Don't get me wrong, I was and still am grateful for Amazon.
We stayed home virtually all the time, decreasing risk.
As of March, 2022, Covid-19 has now worked its way through Delta and Omicron variants. Most Americans are vaccinated and many are boosted. Case numbers are dropping rapidly, but deaths are still tragically high. The CDC Community Covid-19 Level for my county has finally slipped into the GREEN/LOW category. We are finally relaxing some infection control measures and social distancing at our house. Chocoholic and I even committed to a social engagement – Book Club of course. Finally.