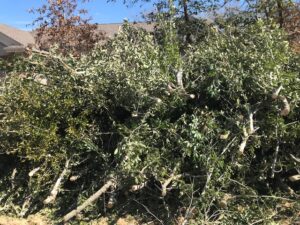 Central Texas sufferred another traumatic winter weather event the first week of February 2023, a devastating ice storm. Several people died, and three days after it "ended," there were still thousands without power, but the most frequent victims were the trees. Downed and damaged trees have to number in the hundreds of millions as Austin alone reported 10.5 million. Eleven weeks later, heavy branches are still falling without warning in our neighborhood and around our house.
We lost our only live oak tree. Live oaks shed their leaves in March, not in winter. Too much ice accumulated on its leaves. Half the tree leaned way over from the weight and sufferred a literal greenstick fracture. The other half leaned over the other way but did not crack. Most of the tree trunk remained upright.
I have seen many ancient live oak trees with massive branches propped up on wooden and concrete braces custom built to hold their great weight. I had hoped the tree guy would tell me that he could apply a similar fix, but of course, he couldn't. He cut the tree down. He informed me that the 2021 Snowmageddon event followed by 18 months of major drought further complicated by recent heavy rains severely weakened the tree. Indeed, the fracture site revealed a blackened and rotted interior portion where standing water had damaged the tree trunk.
City workers loaded and carted off the dismembered tree earlier this week in a massive cleanup using big trucks and heavy front loader equipment. When spring is guaranteed, the tree guy will plant another tree, either another live oak or a Texas Red Oak. The Red Oak is the wiser choice. It will lose its leaves in winter and carry reduced risk of destruction during the next ice storm.
While losing a tree is not as traumatic as losing a family member or a pet, it's an emotional loss. It hurts.