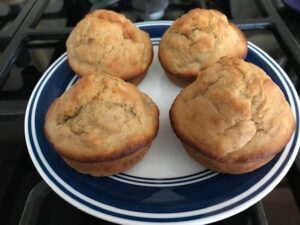 Most of the time I try to cook healthy for my family. I occasionally bake muffins, and I'm always looking to eliminate the sodium, cut harmful fat and sugar and increase fiber. They don't always turn out as I'd like, but I was pleased with a recent batch.
NOTE: June 2023. Various digital health publications are now reporting that the common sweetener found in Splenda is genotoxic and may damage your DNA.
BANANA NUT MUFFINS
1 large egg
2 very ripe/overripe bananas mashed well
1/2 cup milk (I used  2%.)
1/4 cup extra virgin olive oil
1 1/2 cups 100% whole wheat pastry flour (If you've never used this flour, you should definitely give it a try.)
1/2 generous/rounded cup Splenda
2 tsp. baking powder
1/2 cup chopped nuts (I used cashews as container was already open, but pecans and walnuts would work well.)
Spray 12-hole muffin tin with cooking spray. (You can use paper muffin cups if you like, but I prefer the crust achieved without them.)
Preheat oven to 400 degrees F.
Beat egg with fork. Stir in milk, banana and oil. Mix with a fork. Mix flour and other dry ingredients. Stir into batter just until flour is moistened. Avoid overmixing. Batter will be somewhat lumpy.
Fill muffin cups 2/3 full. Sprinkle lightly with a little Splenda if you like your muffins on the sweet side; otherwise their sweetness will be quite delicate.
Bake 18 to 25 minutes. Test with clean toothpick inserted into middle when indicated by fragrance, golden brown color and edges beginning to separate from pan. Toothpick should come back clean.
When done, remove from muffin pan immediately. Serve warm.
Makes 11-12 small muffins. When completely cool, store in airtight container. Will keep well in fridge for three or four days or may be individually frozen.