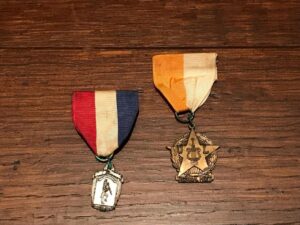 I recently attended one of my neighborhood book clubs. Toward the end of the session, when conversation was ready to turn to politics and gossip, the hostess said something about the selected book being a great story. Her words triggered a memory. Being very perceptive, her eyes zeroed in on me. "What?"
I told her it was a childhood memory about storytelling… specifically about University Interscholastic League competition in storytelling. The other ladies had all grown up out of state. None of them had ever heard of a storytelling competition which surprised me. I explained that it was a contest for public schools sponsored by the University of Texas. The student was given a short story to read silently and then stood up in front of judges and an audience and told the story. Medals were awarded for the top three contenders. Winners advanced to Statewide competition. The activity was intended to promote good listening, thinking and speaking skills.
When I returned home, I wondered if Texas was the only state to sponsor such a competition, so I googled UIL STORYTELLING COMPETITION. Such competitions are still held in Texas along with others in academics, athletics and music. Numerous other state universities sponsor such in other states. The competitions encourage youngsters to enrich their educations and expand their horizons. Students compete based on school size and grade in school.
The image above shows UIL medals I won in band and twirling when I was a student. I can't tell you how proud I was to receive them, but I sure wish I had one for storytelling.