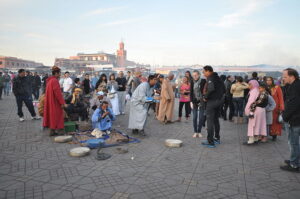 A few years ago, Chocoholic and I took a trip to Spain, Portugal and Morocco. It was a wonderful trip, and we came away from it with the added bonus of delightful new friends.
I hadn't planned on enjoying Morocco, but I did… so much so that I declared that if I ever got rich, I would buy a ranch there… pie in the sky of course, but fun to consider.
Visiting Morocco was, in many ways, like stepping back in time, especially in the old town medinas and vast marketplaces. They were some of the most fascinating markets I've ever visited, and I've done so all over the world. Many goods were produced on site using methods dating from medieval times, including leather, metal and pottery goods in particular.
Morocco is located in the desert on the northwest coast of Africa. We visited a sprawling market in Marrakesh. Tall skinny water sellers plied their trade dressed in elaborate costumes and lampshade hats accented with bright multicolored tassels. They carried water vessels and a variety of metal cups, charging a small coin for a drink of refreshing water.
Toward the end of our visit, we headed to the tour bus. Chocoholic noted a group of snake charmers sitting on a blanket. He wanted to get a picture of the snakes. I said I'd go on to the bus. I gossiped with one of the other tourists as we examined each other's newly-purchased treasures and waited for the others to board.
Chocoholic showed up about ten minutes later, a big grin plastered on his face. Two other tourist guys boarded the bus behind him and stopped at our seats, waiting expectantly. Chocoholic announced that without getting his permission, one of the snake charmers had wrapped a cobra around his neck, shocking the other lady and me speechless. The other two tourist guys confirmed the encounter, laughing loudly at our expressions. "Ha! Ha! What a sight! You should have seen it."
Holy Crap!